Capt. Joseph McConnell, Jr.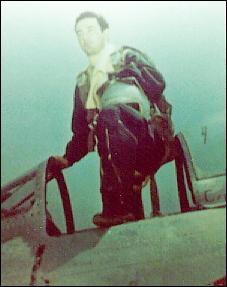 The leading jet ace of the Korean Conflict was Capt. Joseph McConnell, Jr. who scored his first victory on January 14, 1953. In a little more than a month, he gained his 5th MiG 15 victory, thereby becoming an ace.
On the day McConnell shot down his 8th MiG, his F-86 was hit by enemy aircraft fire and he was forced to bail out over enemy-controlled waters of the Yellow Sea west of Korea. After only two minutes in the freezing water, he was rescued by a helicopter. The following day he was back in combat and shot down his 9th MiG. By the end of April 1953, he had scored his 10th victory to become a "double ace."
On the morning of May 18, 1953, McConnell shot down two MiGs in a furious air battle and became a "triple ace." On another mission that afternoon, he shot down his 16th and last MiG-15. A little more than a year later, August 25, 1954, while testing an F-86H at Edwards AFB, California, Capt. McConnell crashed to his death.
Courtesy U.S. Air Force Museum

Return to Aces home page
WWI Aces | WWII Aces | Vietnam Aces | U. S. Fighter | Feedback