Major General Frederick C. Blesse


"No guts, no glory. If you are going to shoot him down, you have to get in there and mix it up with him." Major General Frederick C. "Boots" Bless, USAF
Frederick C. Blesse, who graduated from the United States Military Academy in 1945, flew two combat tours during the Korean Conflict, completing 67 missions in F-51s, 35 missions in F-80s, and 121 missions in F-86s. During the second tour in F-86s, he was officially credited with shooting down nine MiG-15s and one LA-9.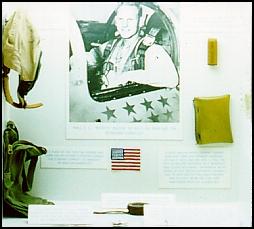 At the time of his return to the U.S. in October 1952, he was America's leading jet ace.
Blesse remained with fighter aircraft for practically his entire military career. During the 1955 Air Force Worldwide Gunnery Championship, he won all 6 trophies offered for individual performance, a feat never equalled. During the Vietnam Conflict, he served two tours in Southeast Asia; while on his first tour in 1967-68, he flew 156 combat missions.
He retired from the USAF in 1975 as a Major General, with more than 6,500 flying hours in fighter-type aircraft and more than 650 hours combat time to his credit.
Courtesy United States Air Force Museum

Return to Aces home page
WWI Aces | WWII Aces | Korean War Aces | Vietnam War Aces | U. S. Fighter | Feedback