Randy "Duke"Cunningham



"Willie, how long can you tread water?"
Commander Randy 'Duke' Cunningham, USN, after his and Willie's F-4 took a missile hit over NVN and he dashed for the coast.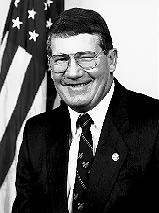 Randy 'Duke' Cunningham was born December 8, 1941, in Los Angeles, California. After earning his bachelors degree in 1964 and his masters in education in 1965 from the University of Missouri, Cunningham began his career as an educator and a coach at Hinsdale (IL) High School. He later expanded his education experience as the Dean of the School of Aviation at National University in San Diego. As a swimming coach, Duke trained his two athletes to Olympic gold and silver medals.

In 1966, at the age of 25, Randy Cunningham joined the U.S. Navy and became one of the most highly decorated pilots in the Vietnam War. "Showtime 100" was the F-4 Phantom used by Randy Cunningham and his RIO Willie Driscoll on May 10, 1972, to score 3 kills. The last was an epic battle against Colonel Ton, reputedly the leading North Vietnamese ace. On the way home, "Showtime 100" took a SAM hit forcing the crew to eject over the sea, but they were rescued safely. As the first fighter ace of the war, Cunningham was nominated for the Medal of Honor, and received the Navy Cross, two Silver Stars, fifteen Air Medals, the Purple Heart, and several other decorations.
Duke's experience in Vietnam and his background as an educator prepared him well to train fighter pilots at the Navy Fighter Weapons School--the famed 'Top Gun' program at Miramar Naval Air Station. As Commanding Officer of the elite Navy Adversary Squadron, Cunningham flew Russian tactics and formations against America's best combat fighter pilots. Many of his real-life experiences as a Naval aviator and fighter pilot instructor were depicted in the popular movie 'Top Gun.' Upon his retirement from the Navy in 1988, Cunningham translated the Masters in Business Administration he earned at National University into a successful business in San Diego.

In 1994, the people of California's 51st Congressional District elected Duke Cunningham to his third term in the House of Representatives. As the voters swept a Republican majority into both chambers of Congress, Congressman Cunningham sought and achieved a position as Chairman of the Economic and Educational Opportunities Committee's Subcommittee on Early Childhood, Youth and Families. The subcommittee's broad jurisdiction over education and family development issues has proved to be an excellent venue for the Congressman to pursue his long-time interests in education policy.

Congressman Cunningham is also a member of the House Committee on National Security where he stresses the importance of full Defense readiness through effective and efficient resource management.

Several organizations have honored Congressman Cunningham throughout his tenure in Congress. Most notably, he has been recognized for his work as a fiscal conservative by such organizations as Citizens for a Sound Economy, the National Taxpayer's Union, and the National Federation of Independent Businesses. He has also seen recognized by several law enforcement organizations for his tough-on-crime position and by education groups for his advocacy--having been named the (Education) impact Aid "Man of the Year."

Congressman Randy "Duke" Cunningham works for a stronger economy, drug-free schools, quality education for our children, a strong and efficient national defense, solutions to Southern California's sewage, water, and border control crises, and the elimination of corruption and waste in our government. He places a priority on the effective use of taxpayer resources for our children's future.

Duke and his wife Nancy, a principal in the Encinitas School District, have three children--Todd, April and Carrie.
"The winner [of an air battle] may have been determined by the amount of time, energy, thought and training an individual has previously accomplished in an effort to increase his ability as a fighter pilot."
"There is nothing, absolutely nothing, to describe what goes on inside a pilot's gut when he sees a SAM get airborne."
Commander Randy "Duke" Cunningham, USN
Vietnam War Aces | Aces Hall of Fame | U. S. Fighter Home Page | Feedback