F/A-18 Hornet (McDonnell Douglas - Boeing)

(Note: Links in italics are external links)
Service: Navy and Marine Corps. Description: All-weather fighter and attack aircraft.
Click here to take a VR tour of a Canadian CF-18 at the Canadian Air Force Web site.
The F/A-18 Hornet is the nation's first strike-fighter. It was designed for traditional strike applications such as interdiction and close air support without compromising its fighter capabilities. With its excellent fighter and self-defense capabilities, the F/A-18 at the same time increases strike mission survivability and supplements the F-14 Tomcat in fleet air defense. F/A-18 Hornets are currently operating in 37 tactical squadrons from air stations world-wide, and from 10 aircraft carriers. It is proudly flown by the U.S. Navy's Blue Angels Flight Demonstration Squadron.

Features: The F/A-18 Hornet, an all-weather aircraft, is used as an attack aircraft as well as a fighter. In its fighter mode, the F/A-18 is used primarily as a fighter escort and for fleet air defense; in its attack mode, it is used for force projection, interdiction and close and deep air support.

Background: The F/A-18 demonstrated its capabilities and versatility during Operation Desert Storm, shooting down enemy fighters and subsequently bombing enemy targets with the same aircraft on the same mission, and breaking all records for tactical aircraft in availability, reliability, and maintainability. The aircraft's survivability was proven by Hornets taking direct hits from surface-to-air missiles, recovering successfully, being repaired quickly, and flying again the next day. The F/A-18 is a twin engine, mid-wing, multi-mission tactical aircraft. The F/A-18A and C are single seat aircraft. The F/A-18B and D are dual-seaters. The B model is used primarily for training, while the D model is the current Navy aircraft for attack, tactical air control, forward air control and reconnaissance squadrons. The newest models, the E and F were rolled out at McDonnell Douglas on Sept. 17, 1995, and are currently undergoing further testing at the Patuxent Naval Air Station in Maryland. The E is a single seat while the F is a two-seater.

All F/A-18s can be configured quickly to perform either fighter or attack roles or both, through selected use of external equipment to accomplish specific missions. This "force multiplier" capability gives the operational commander more flexibility in employing tactical aircraft in a rapidly changing battle scenario. The fighter missions are primarily fighter escort and fleet air defense; while the attack missions are force projection, interdiction, and close and deep air support.

The F/A-18C and D models are the result of a block upgrade in 1987 incorporating provisions for employing updated missiles and jamming devices against enemy ordnance. C and D models delivered since 1989 also include an improved night attack capability.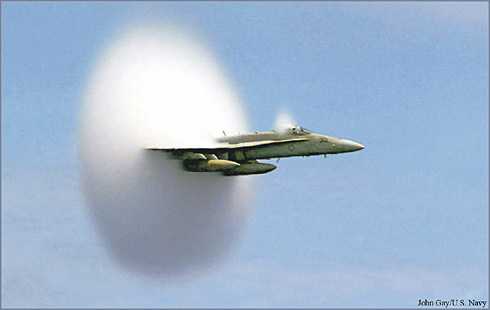 Click the photo to watch a video of an F/A18 breaking the sound barrier (1.3MB)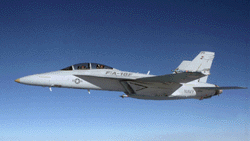 The F/A18-E/F Super Hornet is the Navy's new long-range, multi-mission, all-weather strike fighter. The aircraft made its debut at Patuxent River (Md.) Naval Air Station in September 1995. A total of ten test aircraft will be used for the test program. Seven will be designated as flying test aircraft and three will be used as ground test aircraft. The Super Hornet has flown more than 600 flight hours during 360 plus flights!


The F/A18-E/F has achieved many milestones since its debut. The most significant near term milestone is initial sea trials aboard USS John C. Stennis (CVN 74), the Navy's newest aircraft carrier. These first Super Hornet carrier qualifications are scheduled for 18 January 1997 off the coast of North Carolina, and will consist of a series of tests including catapult launches, arrested landings and various other system evaluations conducted by pilots and flight deck crews.


Background

The F/A18-E/F is an evolutionary upgrade of the combat-proven F/A18-C/D, built by an industry team led by McDonnell Douglas, Northrop Grumman, General Electric and Hughes. The upgrade provides a state of the art multi-mission capability and decades of growth potential at one third to one half the cost of a new aircraft design. The new Super Hornet is under-weight, under-budget and continues to meet all scheduling requirements on time.
The Super Hornet is fully capable of conducting both air-to-air and air-to-ground combat missions. This includes air superiority, day/night strike with precision-guided weapons, fighter-escort, close air support, suppression of enemy air defenses, reconnaissance, forward air control and refueling. The Super Hornet has greater range/endurance, can carry a heavier payload, has enhanced survivability, and a built-in potential to incorporate future systems and technologies.

F/A18-E/F as it compares with the F/A18-C/D



Boeing Photo
Click thumbnail for larger view
•Can fly up to 40% farther on a typical interdiction mission.
•Can remain on station 80% longer during a typical combat air patrol scenario.
•Has three times the "bring back" capability (will be able to "bring back" approximately three times the amount of payload (unused ordnance and fuel to the ship.)

Other F/A18-E/F facts
•Has increased internal fuel capacity by 3600 pounds (33%).
•Has increased engine power. •can extend of the mission radius by up to 40%. •has additional weapon stations now totaling 11.
•Has increased surface area by 100 square feet (25%).
•Carries modified display mechanisms to include crew station features, up-front controls and color CRT instrumentation

Summary
The U. S. Navy believes the F/A18 Super Hornet is the right airplane at the right time. The single seat F/A18-E and the two seat F/A18-F will continue to uphold the Hornet's proud tradition as the U. S. Navy's benchmark for high reliability, low maintenance, outstanding survivability and cost-effective fleet operations. The Super Hornet test program holds much promise for the future as it leads naval aviation into the 21st century!
Courtesy U. S. Navy
For additional information on the F/A 18-EF please visit the Boeing Super Hornet site

General Characteristics, C and D models

Primary Function: Multi-role attack and fighter aircraft
Contractor: Prime: McDonnell Douglas ; Major Subcontractor: Northrop
Unit Cost: $ 24 million
Propulsion: Two F404-GE-402 enhanced performance turbofan engines by General Electric
Thrust: 17,700 pounds (8,027 kg) static thrust per engine
Length: 56 feet (16.8 meters)
Height: 15 feet 4 inches (4.6 meters)
Maximum Take Off Gross Weight: 51,900 pounds (23,537 kg)
Wingspan: 40 feet 5 inches (13.5 meters)
Range (w/external tanks):
Fighter: 1,379 nautical miles (1585.9 miles/2,537 km);
Attack: 1,333 nautical miles (1532.9 miles/2,453 km)
Ceiling: 50,000+ feet
Speed: Mach 1.7+
Crew:
A,C and E models: One
B,D and F models: Two
Armament: One 20mm MK-61A1 Vulcan cannon;
External payload: AIM 9 Sidewinder, AIM 7 Sparrow, AIM-120 AMRAAM, Harpoon, Harm, Shrike, SLAM, SLAM-ER, Walleye, Maverick missiles; Joint Stand-Off Weapon (JSOW); Joint Direct Attack Munition (JDAM); (TARPS), (NAVFLIR) system and various general purpose bombs, mines and rockets.
Date Deployed:
First flight, November 1978
Operational, February 1981

General Characteristics, E and F models

Primary Function: Multi-role attack and fighter aircraft
Contractor: McDonnell Douglas
Unit Cost: $ 35 million
Propulsion: Two F414-GE-400 turbofan engines
Thrust: 22,000 pounds (9,977 kg) static thrust per engine
Length: 60.3 feet (18.5 meters)
Height: 16 feet (4.87 meters)
Maximum Take Off Gross Weight: 66,000 pounds (29,932 kg)
Wingspan: 44.9 feet (13.68 meters)
Ceiling: 50,000+ feet
Speed: Mach 1.8+
Crew:
A,C and E models: One
B,D and F models: Two
Armament: One 20mm MK-61A1 Vulcan cannon;
External payload: AIM 9 Sidewinder, AIM 7 Sparrow, AIM-120 AMRAAM, Harpoon, Harm, Shrike, SLAM, SLAM-ER, Walleye, Maverick missiles; Joint Stand-Off Weapon (JSOW); Joint Direct Attack Munition (JDAM); various general purpose bombs, mines and rockets.
First Flight December 1995