F-22 Raptor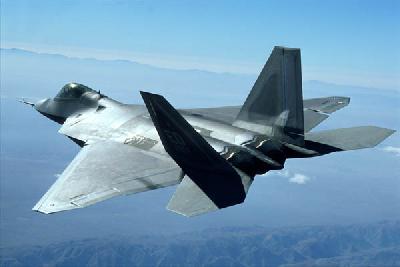 Boeing is teamed with Lockheed Martin, Pratt & Whitney and the U.S. Air Force to develop the F-22 Raptor as a replacement for the F-15. The fast, agile, stealthy F-22 will take over the air dominance role with Air Combat Command starting in 2005. The Air Force plans to procure 336 F-22s, and production is scheduled to run through 2013.
For additional information please visit Boeing's F-22 site and Lockheed Martin.

Lockheed-Martin Photo

SPECIFICATIONS
Length: 62 feet, 1 inch
Height: 16 feet, 5 inches
Wingspan: 44 feet, 5 inches
Crew: Model F-22A will carry one crewperson.

Armament
The F-22 is capable of carrying existing and planned
air-to-air weapons. These include a full complement of
medium-range missiles such as the AIM-120A advanced medium range air-to-air missile (AMRAAM),
and short-range missiles such as theAIM-9 Sidewinder.
The F-22 also will have a modernized version of the proven M61 internal gun
and growth provisions for other weapons.The aircraft also will be capable of carrying
Joint Direct Attack Munitions (JDAMs) and other ground-attack weapons.
A combination of improved sensor capability, improved situational awareness
and improved weapons provides first-kill opportunity against threats.
The F-22 possesses a sophisticated sensor suite that allows the pilot to track,
identify and shoot the threat before it detects the F-22.
Significant effort is being placed on cockpit design and avionics fusion
to improve the pilot's situational awareness. Advanced avionics technologies
allow the F-22 sensors to gather, integrate and display essential information
in the most useful format to the pilot.
PERFORMANCE
Powerplant: Two Pratt & Whitney F119-PW-100 engines.
Speed: The F-22's speed class is Mach 2. The F-22's engines produce more thrust than
any current fighter engine, especially in military (non-afterburner) power. Called "supercruise,"
this characteristic allows the F-22 to efficiently cruise at supersonic airspeeds
without using afterburners. This capability greatly expands the F-22's
operating envelope in both speed and range over current fighters that must
use afterburner to operate at supersonic speeds
Milestones:
Sept. 29, 1990: First flight of Lockheed Martin-Boeing YF-22 prototype.
April 23, 1991: Air Force awards F-22 Engineering & Manufacturing Development Contract to
Lockheed Martin-Boeing team.
Feb. 24, 1995: Air Force approves final design of the F-22.
April 9, 1997: Air Force officially names the F-22 "Raptor" at rollout ceremony in Marietta, Ga.
Sept. 7, 1997: First flight of the F-22 Raptor, piloted by F-22 Chief Test Pilot Paul Metz
Courtesy Boeing