2Lt. Frank Luke, Jr.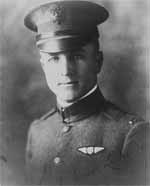 Frank Luke, nicknamed The Arizona Balloon Buster, was born in Phoenix, Ariz. He enlisted in the U.S. Army in Sep. 1917, learned to fly, and arrived on the Front in France in July 1918 where he was assigned to the 27th Aero Sq. His exceptional bravery earned for him a reputation for being "wild and reckless" but his fellow pilots soon realized that he possessed that certain element which distinguished a great fighter pilot from the others----- complete fearlessness.

In Sep. 1918, Luke began a personal campaign against German observation balloons and airplanes. During a seven-day period, Sep. 12-18, two days of which he did not fly, he scored 13 confirmed victories, including an amazing five victories (two balloons and three airplanes) on the last day.

At sunset on Sep 29, 1918, Luke took off from an advance aerodrome at Verdun to attack balloons in the area of Dun-sur-Meuse. He never returned.

Following the Armistice, U.S. troops found Luke's grave in the cemetary of the small village of Murvaux. According to the local French residents, Luke had been shot in the chest by ground fire while circling Murvaux at low altitude, had landed his SPAD and crawled from it in the gathering dusk, and had died while firing his service automatic at German soldiers who were searching for him along a creek bank. His remains were removed to the U.S. Military Cemetary at Romagne, France for permanent burial.

For his last flight on Sep 29, Luke was awarded the Medal of Honor for shooting down three enemy balloons while under heavy fire both from the ground and from eight pursuing enemy airplanes, and for strafing enemy troops, killing six of them.

At the time of his death, Luke was the leading ace of the U.S. Air Service with 18 confirmed victories, (14 balloons and 4 airplanes).
Congressional Medal of Honor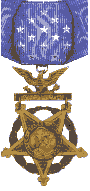 LUKE, FRANK, JR. - Air Mission 2Lt, US Army Air Corps, 27th Aero Squadron, 1st Pursuit Group, Air Service.
Action: Near Murvaux, France, 29 Sep 1918. Inducted: Phoenix, Ariz. DOB 19 May 1897, Phoenix, Ariz. G.O.#59, W.D, 1919.
Citation: After having previously destroyed a number of enemy aircraft within 17 days he voluntarily started on a patrol after German observation balloons. Though pursued by 8 German planes which were protecting the enemy balloon line, he unhesitatingly attacked and shot down in flames 3 German balloons, being himself under heavy fire from ground batteries and the hostile planes. Severely wounded, he descended to within 50 meters of the ground, and flying at this low altitude near the town of Murvaux opened fire upon enemy troops, killing 6 and wounding as many more. Forced to make a landing and surrounded on all sides by the enemy, who called upon him to surrender, he drew his automatic pistol and defended himself gallantly until he fell dead from a wound in the chest.
'Aces' home page | U. S. Fighter | Feedback