F-105 Thunderchief (Republic)

(Note: Links in italics are external links)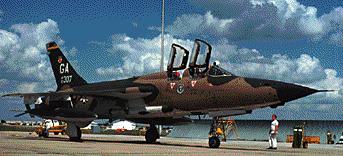 The F-105 (affectionately nicknamed "Thud") evolved from a project begun in 1951 by Republic Aviation to meet an Air Force requirement for a supersonic tactical fighter-bomber that was capable of heavy weapons loads, high speeds and long ranges. The prototype first flew on October 22, 1955, but the first production aircraft, an F-105B, was not delivered to the USAF until 1958. The F-105D all-weather strike fighter and the two-place F-105F dual-purpose trainer-fighter also were built before F-105 production (833 aircraft) ended in 1964. No "C" or "E" series were produced, and the "G"s were modified from F-105Fs.

Please read article by John D. Cugini on the F-105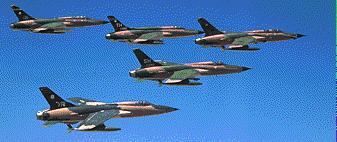 SPECIFICATIONS
Wing span: 34 ft. 11 in.
Length: 67 ft. 0 in.
Height: 20 ft. 2 in.
Weight: 54,580 lbs. max.
Cost: $2,237,000
Armament
One M61 20mm Vulcan cannon plus 14,000 pounds of ordnance--conventional bombs, rocket packs, missiles and special weapons

PERFORMANCE
Engine: One Pratt & Whitney J75-P-19W of 26,500 lbs. thrust with afterburner
Maximum speed: 831 mph
Cruising speed: 596 mph.
Range: 1,500 miles
Service Ceiling: 50,000 ft.