Fokker DR-I Dridecker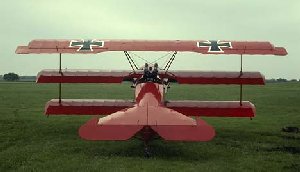 For all its fame -- much of it associated with the fact that the famous German ace Manfred von Richthofen was flying a Dr.I at the time of his death -- Fokker's Dreidecker was produced in limited numbers, and only 320 were built. It was not widely distributed among German fighter units operating at the front. Though not particularly fast, the Dreidecker -- a response to the British Sopwith Triplane -- was extremely agile and was a deadly opponent during close air-to-air combat. von Richthofen first flew the triplane in July 1917 he reported enthusiastically to his squadron pilots that it was 'as manoeuvrable as the devil and climbed like a monkey'.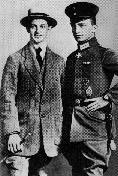 Orders for 320 production Fokker Dr.1s (Dr for Dreidecker: three decks) were placed and Tony Fokker (left in photo at left) personally delivered the first aircraft to von Richthofen's Geshwader in August. Production was in full swing in October. On the 28th of that month, Staffelführer Heinrich Gonterman, a 39-victory ace from Jasta 15, took off in his newly-delivered triplane for the first time to perform some aerobatics over his home aerodrome. As he pulled out of a steep dive witnesses saw pieces fly from the Fokker's wings and it crashed, killing Gontermann. The next day a pilot from Richthofen's Jasta 11 was killed landing his Driedecker. A wing structural problem was found to be the cause. By the time the problem was fixed, newer, more innovative fighters had replaced it as a major combatant.
No original Fokker Dr.Is are known to be in existence.

SPECIFICATIONS
Country: The Netherlands
Manufacturer: Fokker
Designation: Dr.I Dreidecker
Type: Fighter
Service Dates: 1917 to 1918
Length: 18'-11"
Wingspan: 23'-7"
Height: 9'-8"
Empty Weight: 893 lbs
Gross Weight: 1,289 lbs
Number of Crew: 1
Armament
2 Spandau 7.92 mm machine guns
PERFORMANCE
Maximum Speed: 103 mph @ 13,100 ft.
Maximum Range: 125 miles
Maximum Altitude: 14,000 ft
Ceiling: 19,685 ft.
Engine Type: Reciprocating
Engine Manufacturer: Oberursel
Engine Designation: UR II x 1
Engine Horsepower: 110 hp
Expected endurance: 1 hr. 30 min.