P-38 Lightning (Lockheed Aircraft Corp.)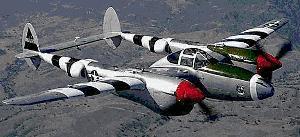 The Lockheed P-38 Lightning was the only American fighter in continuous production from before the begining of WWII until the end of hostilities. The long-range P-38 served in every theater in a variety of capacities and was credited with shooting down more Japanese aircraft than any other type.
On April 18, 1943, 16 USAAF P-38 fighters flew more than 550 miles from their base on the island of Bougainville at Guadalcanal to intercept a Mitsubishi GM-4 "Betty" bomber carrying Admiral Isoroku Yamamoto, master strategist of the Japanese navy. Yamamoto died as the bomber crashed in a jungle after Thomas Lanphier blew the wing off the "Betty".
The Lightning was designed in 1937 as a high-altitude interceptor. The first one built, the XP-38, made its public debut on February 11, 1939 by flying from California to New York in seven hours. Because of its unorthodox design, the airplane experienced "growing pains" and it required several years to perfect it for combat. Late in 1942, it went into large-scale operations during the North African campaign where the German Luftwaffe named it "Der Gabelschwanz Teufel"--"The Forked-Tail Devil."

Equipped with droppable fuel tanks under its wings, the P-38 was used extensively as a long-range escort fighter and saw action in practically every major combat area of the world. A very versatile aircraft, the Lightning was also used for dive bombing, level bombing, ground strafing and photo reconnaissance missions.

By the end of production in 1945, 9,923 P-38s had been built. The P-38L shown below, painted as a P-38J with the 55th Fighter Squadron based in England, was donated to the United States Air Force Museum in 1961 by the Bob Bean Aircraft Corp., Hawthorne, California and the Kaufmann Foundation, Philadelphia, Pennsylvania.
The highest scoring U.S. ace of WWII, Maj. Richard Bong, flew a P-38 as did the second highest scoring ace Maj. Thomas B. McGuire.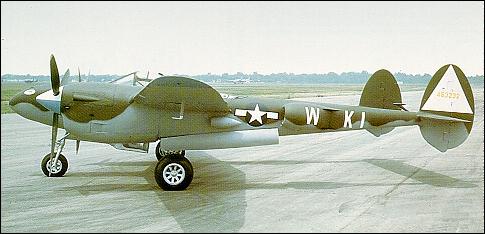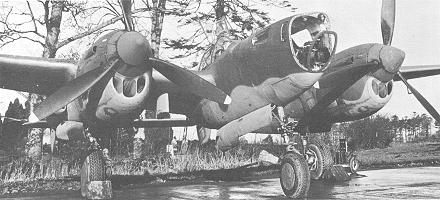 The nickname "Droop Snoop" was given to Lightnings which had bombardier-type noses. These planes carried
Norden Bomb sights and guided fleets of bomb laden P-38's to their targets. P-38L's were converted to this role.
Courtesy U. S. Air Force Museum

SPECIFICATIONS
Nation: USA
Manufacturer: Lockheed Aircraft Corp.
Type: Twin Engine Fighter
Span: 52 ft.
Length: 37 ft. 10 in.
Height: 12 ft. 10 in.
Weight: 17,500 lbs. loaded
Cost: $115,000
Armament
Four .50-cal. machine guns and one 20mm cannon, 2,000 lb of bombs, rockets

PERFORMANCE
Engines: Two Allison V-1710s of 1,475 hp. ea.
Maximum speed: 414 mph at 25,000 ft
Cruising speed: 275 mph
Range: 1,100 miles
Service Ceiling: 40,000 ft.