P-51 Mustang (North American Aircraft)
Please wait for the sound file to load and turn up the volume on your speakers.
That's the sound of the big Merlin V-1650 engine.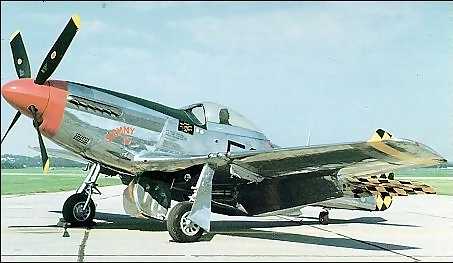 "Cadillac of the skies"
The P-51 was designed as the NA-73 in 1940 at Britain's request. The design showed promise and AAF purchases of
Allison-powered Mustangs began in 1941 primarily for photo recon and ground support use due to its limited high-altitude
performance. But in 1942, tests of P-51s using the British Rolls-Royce "Merlin" engine revealed much improved speed and
service ceiling, and in Dec. 1943, Merlin-powered P-51Bs first entered combat over Europe. Providing high-altitude escort to B-17s and B-24s, they scored heavily over German interceptors and by war's end, P-51s had destroyed 4,950 enemy aircraft in the air, more than any other fighter in Europe. Mustangs served in nearly every combat zone, including the Pacific where they escorted B-29s to Japan from Iwo Jima.
Between 1941-5, the AAF ordered 14,855 Mustangs (including A-36A dive bomber and F-6 photo recon versions), of which7,956 were P-51Ds. During the Korean Conflict, P-51Ds were used primarily for close support of ground forces until withdrawn from combat in 1953.
The P-51D shown here was obtained by the U.S. Air Force Museum from the West Virginia ANG in 1957 and was the last prop-driven USAF fighter assigned to a tactical unit. It is painted as the -D flown by Col. C.L. Sluder, CO of the 325th Fighter Group, 15th Air Force, in Italy in 1944.
Courtesy U. S. Air Force Museum



Click for view of P-51 cockpit
Take a QuickTime VR tour of a P-51 cockpit at Air & Space Smithsonian
VERSIONS
Mustang Mk I (reconnaissance fighter)
Mustang Mk IA and P-51 (cannon armament)
Mustang Mk II and P-51A (longer range version of Mk I)
P-51 B/C and Mustang Mk III (Merlin engine)
P-51D and Mustang MK IV (definitive fighter)
P-51H (light weight version)
P-51K (P-51D with different propeller)
SPECIFICATIONS
Span: 37 ft. 0 in.
Length: 32 ft. 3 in.
Height: 13 ft. 8 in.
Weight: 12,100 lbs. max.
Cost: $54,000
Armament
Six .50-cal. machine guns and ten 5 in. rockets or 2,000 lbs. of bombs.

PERFORMANCE
Engine: Packard built Rolls-Royce "Merlin" V-1650 of 1,695 hp.
Maximum speed: 437 mph.
Cruising speed: 275 mph.
Range: 1,000 miles
Service Ceiling: 41,900 ft.