Supermarine Spitfire
Among the most famous aircraft of all time, the Spitfire began operations before World War II and was one of the few pre-war types to remain in first-line service until the end of the war and beyond. As the war progressed, the Spitfire received heavier armament and more powerful engines until it was twice as heavy and powerful as the original mark.
Reginald Mitchell designed this most famous of British fighters from his experience with the outstanding S.6B Schneider Cup racing seaplanes, the fastest aircraft of their day. Flown for the first time on the 5th of March 1936, the Spitfire had such develpomental potential that a total of 20,351 (plus 2,556 Seafires) were built with the last coming off the line in 1947. Though more Hurricanes fought in the Battle of Britain, the Spitfire became the symbol of Britain's will to resist a determined enemy at almost impossible odds. Pilots loved the aircraft with a passion that lasts to this day, saying it was more like pulling on a pair of pants than stepping into a machine.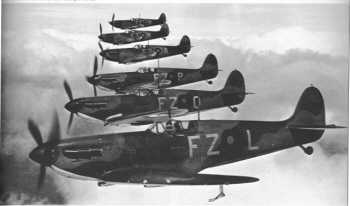 The Merlin engine variants were considered by purists to be the definitive Spitfires with elegant lines, smaller dimensions and lighter handling. The example shown is an LF. Mk. IXb (1943) owned by the Old Flying Machine Co., Duxford England. The Mk.IX began as a stopgap with a hastily installed Merlin 61 to counter the Fw 190, which significantly outclassed the spitfire Mk.V. As it turned out, just over 5,500 IXs were built and pilots, on the whole, thought it was the best of the breed. The Merlin aircraft were developed up to the Mk.XIII, a low-level photo recon version, and many were deployed as carrier-based Seafires. Several marks had their wings clipped for better roll rate but many thought this destroyed the look of the aircraft's elegant elliptical wings.

SPECIFICATIONS
Country:UK
Manufacturer: Supermarine Aviation Works Ltd.
Span: 36 '10"
Length: 31' 4.5"
Height: 11' 5"
Weight: 5,610 lbs. (empty) 7, 500 lbs. (operational)
Armament
Two 20mm cannon, four .303 cal machine guns, external bomb load (1,000 lbs) or rockets
PERFORMANCE
Engine:Rolls-Merlin 61 1,560 hp, 12 cylinder inline
Speed: Max. 408 MPH
Ceiling: 44,000 ft. (service)
Range: 660 miles
source: Jane's Aircraft of WWII