56th Fighter Group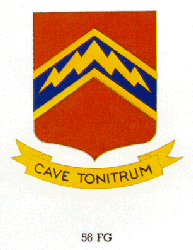 Buy the book
BEWARE THE THUNDERBOLT;The 56th Fighter Group in World War II
Assigned 8th AAF: 12 Jan 1943
Wing/Command Assignment
VIII FC 12 Jan 1943
VIII FC, 4 ADW 30 Jun 1943
VIII FC, 65 FW 7 Aug 1943
2 BD, 65 FW 15 Sep 1944
2 AD, 65 FW 1 Jan 1945

Combat Aircraft:
P-47C 5 Feb 1943 to Apr 1943
P-47D Jan 1943 to Mar 1945
P-47M Jan 1945 to Sep 1945


Stations
KINGS CLIFFE 13 Jan 1943 to 5 Apr 1943
HORSHAM ST FAITH 5 Apr 1943 to 8 Jul 1943
HALESWORTH 8 Jul 1943 to 18 Apr 1944
BOXTED 18 Apr 1944 to 9 Sep 1945
LITTLE WALDEN 9 Sep 1945 to 10 Oct 1945


Group COs
Col Hubert Zemke 1 Sep 1942 to 30 Oct 1943
Col Robert B. Landry 30 October 1943 to 11 Jan 1944
Col Hubert Zemke 19 Jan 1944 to 12 Aug 1944
Col. David C. Schilling 12 Aug 1944 to 27 Jan 1945
Lt. Col. Lucian A. Dade Jr. 27 Jan 1945 to Aug 1945
Lt. Col. Donald D. Renwick Aug 1945 to Oct 1945

First Mission: 13 Apr 1943
Last Mission: 21 Apr 1945
Total missions: 447
Aircraft MIA: 128

Claims: Air 674 Ground 311.

Major Awards:
Two Distinguished Unit Citation:
20 Feb 1944 to 9 Mar 1944 foe destroying 98 enemy aircraft
18 Sep 1944 invasion of Holland in support of airborne forces


Unit Claims to Fame
Destroyed more enemy aircraft than any other 8th AF fighter Group.
Had more fighter aces than any other Fighter Group
Top Scoring fighter aces Francis Gabreski, and Robert Johnson flew with the 56th Fighter Group
First USAAF group to fly P-47
Only 8AF Group to fly P-47 throughout the War
Early History:
Activated on the 15th of January 1941 at Savannah AAB, Ga. Expansion of the Group began after the move to Charlotte AAB, NC in May of 1941 when they were equipped with a small number of P-39 and P-40 aircraft. IIntensive training at Charleston MAP, SC in Dec 1941 and from Jan to Jun 1942 at airfields in New York, at area headquarters at Mitchel field, NY. Here they flew on air defence patrols. Selected to train with the new P-47B they received the first aircraft in June of 1942. The group then moved to Bridgeport MAP, Conn on 7 July 1942 and continued testing and training with early P-47s. Alerted for overseas duty in December of 1942 they sailed on the Queen Elizabeth on the 6th of January 1943 and arrived in Gourock on the 11th of January 1943. The 647 aerial victories placed the group on the top of the 8th AF in that category and they finished second only to the 4th Fighter Group in combined air and ground victories. The group finished with a eight to one kill ratio.


Subsequent History:
Aircraft went to depots on September 1945. The remainder of the personnel went to Little Walden. they returned to the States on October 1945, sailing on the Queen Mary on the 11th of October 1945, and arriving in New York on the 16th of October 1945. The group was established at Selfridge field, Michigan and flew P-47s and P-51s until 1947, then they transitioned to P-80s and moved to O'Hare IAP, Ill on August 1955 and were equipped with F-86Ds, then they were reestablished as the 62 Fighter Intercepter Squadron with the F-101 Vodoos until 1969. Then the designation was given to a special operations wing in Thailand in 1967.

Hall of Fame WWII | U. S. Fighter Home Page | Feedback