F-101 "Voodoo" (McDonnell)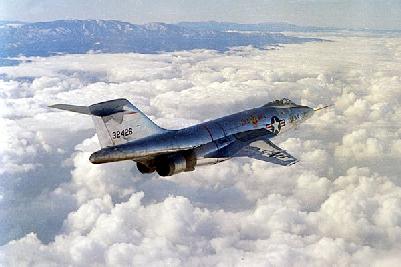 The F-101 was a larger and more powerful development of the F-88. It was heavy and large, but also powerful and fast, with an impressive range. Due to continuously changing requirements, the F-101 had a checkered development. Its original role was to be that of a 'deep penetration' long-range escort fighter. Instead, it served as nuclear attack fighter, all-weather interceptor, and reconnaissance aircraft. Although it once equipped the majority of USAF interceptor units, it never was a major type in the US inventory, because of some control problems which limited its effectiveness. The F-101 is still in use by Canada and Taiwan. The reconnaissance version was much used in Vietnam. RF-101 crews flew their first missions in Vietnam in 1961 as part of Operation Pipe Stem and the later Operation Able Mable. Pilots from the 363d Tactical Reconnaissance Wing at Shaw AFB, S. C., flew the RF- 101's first operational low-level missions on October 23, 1962, during the Cuban Missile Crisis. RF-101 crews provided a majority of tactical reconnaissance in Southeast Asia until 1965, then shared duties with RF-4 crews.
The F-101A and F-101C are single place supersonic fighters built by McDonnell Aircraft. The RF-101G and RF-101H are single place, supersonic, long range photo-reconnaissance airplanes modified from F-101A and F-101C airplanes by Lockheed Aircraft Service Company. Their appearance is characterized by thin, short, swept wings with triangular intake ducts in the wing roots, and swept back empennage. The horizontal stabilizer is a one-piece unit mounted high on the vertical stabilizer. The ailerons, mounted on the outer trailing edge of the wings, and the empennage control surfaces, operate through irreversible hydraulic systems which produce required control surface deflections. Aerodynamic feel is simulated by an artificial feel system.
Hydraulically operated, electrically actuated wing flaps, mounted inboard of the ailerons, are deployed through a 50-degree range. Panel type speed brakes are installed on the aft portion of the fuselage and may be utilized at all speeds. The airplanes incorporate both the flying boom and probe and drogue air refueling capabilities plus the single-point ground refueling system. The pressurized cockpit is enclosed by a clam-shell canopy. A drag chute contained in the empennage significantly reduces landing roll distances.
The F-101 Voodoo first flew Sept. 29, 1954. It held numerous speed and endurance records during the 1950s and 1960s. In 1954, an F-101C set a world speed record of 1,207.6 mph. On November 27, 1957, four RF-101A pilots took off from March AFB, Calif., as part of Operation Sun-Run. Refueled in flight, two of the crews landed at McGuire AFB, N. J., and two turned around and landed back at March. Lt. Gustav Klatt set an eastbound coast-to-coast record of three hours, seven minutes, 43 seconds, while Capt. Robert Sweet set a westbound coast-to-coast record (3:36:33) and a Los Angeles–New York–Los Angeles record (6:46:36). On December 12, 1957, Maj. Adrian Drew, flying an F-101A at Edwards AFB, Calif., set a new absolute speed record of 1,207.34 mph. The last record-breaking flight of this rush of records came on April 15, 1959, when Capt. George A. Edwards set a 500-km closed-course record of 816.28 mph, also at Edwards. The Voodoo picked up the nickname "One-Oh-Wonder." The F/RF-101 series achieved a record for the lowest first-year accident rate of any Air Force fighter in history to that point. F/RF-101 production ran until 1961.
The F-101 was the working prototype for the F-4 series of fighters which are still flying today. The last Air Force F-101 and the last Guard RF-101 were both retired in 1982.
Common with all McDonnell fighters is the spooky names each were given (i.e., Voodoo, Demon, Banshee and Phantom).
807 were built.
Portions courtesy U.S. Air Force Museum


McDonnell F-101A and -C "Voodoo"
TYPE
XF-88
F-101A
F-101C
RF-101G
RF-101H

Number built/Converted
2
77
47
29 (cv)
32 (cv)

Remarks
Penetration ftr.
Strategic fighter
Imp. F-101A
Conv. F-101A
Conv. F-101C
SPECIFICATIONS
F-101A (block 25 and later)
Span: 39 ft. 8 in.
Length: 67 ft. 5 in. (67 ft. 11 in. RF-101G/H)
Height: 18 ft. 0 in.
Weight: 43,020 lbs. ramp gross weight, blocks 25 through 35, 49,070 lbs.
ramp gross weight with two full external tanks.
(for blocks 40 through 55 weights are 43,970 and 50,270 lbs.)
Armament
Three automatic firing M-39 20mm guns. Two guns are on the left side
of the airplane and one is located on the lower right side of the airplane.
An external store can be carried on a removable pylon mounted on the
underside of the fuselage. An automatic lead computing sight, coupled
with a radar ranging system, is provided for accurate gun firing. Bombing
equipment includes the LABS (Low Altitude Bombing System) and the LADD
(Low Angle Drogue Delivery) system. Additional features include provisions for
DIRECT (manual) bomb release. (T.O 1F-101A-1)

PERFORMANCE
Engines: Two Pratt & Whitney J-57-P-13 rated at approximately 10,200 lbs.
sea level static Military thrust, and at approximately 15,000 lbs.
Maximum thrust (with afterburner).
Maximum speed: 1,070 mph/870 knots
Cruising speed: 550 mph/480 knots at 35,000 ft.
Range: Approximately 2,140 nautical miles using a cruise-climb profile: initial: 33,600 ft.;
final: 43,100 ft.; .83 Mach number (480 knots TAS) consuming 20,475 lbs. of fuel in 4 hrs. 25 min.
at 49,249 lb. gross takeoff weight with two 450 gal. drop tanks which are dropped when
empty. (1,620 nm. without ext. tanks. and 1,950 nm. with drop tanks but not dropped when empty).
Ref: T.O. 1F-101A-1
Service Ceiling: 50,300 ft.
Combat range: 690 nm.