Pratt & Whitney J-57 Turbojet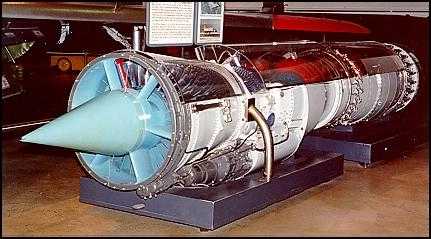 The J57 production engine was the world's first jet engine to develop 10,000 lbs. thrust. It evolved from the T45 turboprop engine designed for the XB-52 program. As advances in the B-52 design dictated greater power requirements, the turboprop concept was discarded and the wasp-waisted J57 turbojet was developed. The J57 featured a dual-rotor axial-flow compressor which allowed low fuel consumption over a wide operating range and improved the sluggish acceleration previously characteristic of jet engines.
The same year that production began, 1953, America's highest aviation honor, the Collier Trophy, was awarded for the design and development of this engine. Using a J57, the North American YF-100A became the world's first fighter aircraft to reach supersonic speed in level flight, on its maiden flight on May 25, 1953. Later versions of the J57 and its commercial equivalent, the JT3, reached the 18,000 lbs. thrust level with an afterburner. When production ended in 1970, more than 21,000 of these engines had been built. In addition to the B-52 and F-100, the J57 (or JT3) powered the Vought F8U; Douglas F4D, F5D, and A3D; Boeing 707 and 720; Douglas DC-8; and numerous USAF aircraft including the KC-135, F-101A, and F-102A.
The J57 on display is a YJ57-P-3, the first series to go into production. Rated at 8,700 lbs. thrust, it served as the prototype for the higher-powered engines later used in B-52s. P-3s were also used in testing the Northrop XSM-62 Snark missile and the Convair XB-60, an all-jet development of the B-36. This engine was the 16th of the 95 P-3s built and was used in XB-52 testing.
First flight: 1951
Production years: 1951-1965
Engines produced: 21,170
Courtesy U.S. Air Force Museum & United Technologies Corp. - Pratt & Whitney