F-100 Super Sabre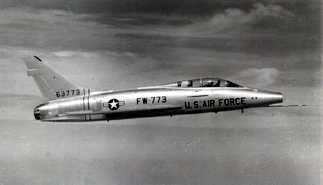 The successor to the famed F-86 Sabre, the F-100 Super Sabre was the World's first production aircraft able to exceed the speed of sound in level flight. The prototype YF-100 first flew on May 25, 1953 and was the first of six USAF fighters in the "Century Series". These were state-of-the-art jet fighters designed in the 1950s with designations of 100 and above.
In addition to the thin, highly swept wing and tail, the F-100 design incorporated other features that reflect an answer to the problem of supersonic flight. Heat-resisting titanium was used extensively throughout the plane. A low-drag, ultra-streamlined fuselage and canopy with but one thin-lipped air intake duct helped make supersonic speed possible. The canopy line matched the rear fuselage in a smoothly curving line so that from the side, the Super Sabre appeared to be slightly arched. Other features included automatic leading-edge slats and a low-positioned one-piece horizontal stabilizer. The F-100 was the first USAF airplane to utilize the low tail.
The plane had an automatically regulated air conditioning and pressurizing system and automatic fuel system.
Particular attention was given to placement of all controls, equipment, and instruments in the cockpit for ease of operation.
The F-100A was a day fighter, the F-100C and D were fighter-bombers and the two-seat F-100F served as a transition trainer. The high performance of the "Hun", as it became nicknamed, made it a natural mount for the USAF Thunderbirds and Skyblazers aerial demonstration teams. The Thunderbirds flew the F-100C from 1956 to 1964. After a brief and unsuccessful stint with the F-105B Thunderchief in 1964, the Thunderbirds converted to the newer F-100D model Super Sabres which they flew until 1968. The USAF Skyblazers were a similar air demonstration team that was based in and performed in Europe during the early 1960s.
The Colorado Air National Guard's 120th Tactical Fighter Squadron flew the F-100C, D & two-seat F models from 1961 to 1974. In 1968, the CO ANG became the first Air National Guard unit to be assigned combat duty in Vietnam where their F-100s flew 5,905 combat sorties. The CO ANG lost two members in combat, Maj. Clyde Seiler and Capt. Perry Jefferson. The 120th replaced the F-100 with the Vought A-7D in 1974. The last F-100 in operational U.S. service was retired from the Indiana Air National Guard's 181st TFG in November 1979.
Their retirement from squadron service did not, however, mark the end of the F-100 in USAF service. Many were converted to unmanned target drones for use in air-to-air missile exercises. The F-100 also found a home in the air forces of France, Denmark, Turkey and Nationalist China.

SPECIFICATIONS
Wingspan: 38'-9"
Length: 54'-3"
Height: 16'-3"
Normal Operating Weight (clean): 30,425 lbs.
Crew: 1
ARMAMENT
Four M-39 20mm cannon plus over 7,000 lbs of weapons including nuclear or conventional bombs, rockets,
four Sidewinder air-to-air or two Bullpup air-to-ground missiles mounted on six underwing pylons
PERFORMANCE
Powerplant: One Pratt & Whitney J-57-P-21A turbojet providing 16,000 lbs. of thrust in afterburner
Normal cruise speed: 565 mph (491 knots)
Maximum speed: 864 mph (750 knots) or Mach 1.3 at 36,000 ft.
Ceiling: 46,900 ft.
Fuel capacity: 1,859 gallons plus combinations of 200,275,335 or 450 gallon external tanks