Colonel Gregory Boyington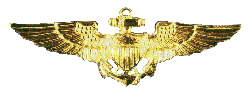 "Months of preparation, one of those few opportunities, and the judgement of a split second are what makes some pilots an ace, while others think back on what they could have done."
Colonel Gregory "Pappy" Boyington, USMC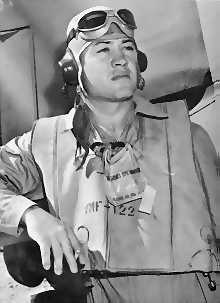 "Pappy" was born in Coeur D'Alene, Idaho on December 4, 1912 and grew up in Tacoma, Washington. In his early school years he became recognized for his aggressiveness and skill in sports and became intercollegiate wrestling champion while attending college in Washington. His interest in flying and competitive spirit caused him to join the Marine Corps where he became a flight instructor. His desire to fly combat and need to pay off some old debts led him to volunteer for the "Flying Tigers" AVG group in China where the pilots were promised $675 a month plus $500 for every enemy plane they downed. Fighting bugs, scorpions, injuries, P-40 engine problems, bad weather and general Chenault's incompetent staff as well as the Japanese, Boyington claimed to have shot down six Japanese fighters, which would have made him one of the first American aces of the war. From AVG records, which were loosely kept, the most kills that can be confirmed is 3.5. He maintained until his death in 1988 that he did, in fact, have six kills, and the Marine Corps officially credits him with those kills.
He returned to the United States following the disbanding of AVG. When the United States entered the war, he rejoined the Marine Corps in early 1942 and was assigned to the Solomon Islands in the Pacific, and also served in the Bougainville campaign.
Colonel Boyington led one of the most successful squadrons in all of World War II. During his combat career with the Flying Tigers, and the Black Sheep Squadron, he successfully shot down 28 Japanese aircraft. VMF-214, the Black Sheep Squadron, flying the F4U Corsair, shot down 94 enemy fighters and had a total of 203 enemy aircraft either destroyed, probably destroyed, or damaged in only 12 weeks of combat.
The constant stress of the tropical climate and combat took its toll however, and suffering from exhaustion and skin disease Boyington flew his last combat mission on 3 January 1944 during a mission in which he and his wingman, George Ashmun, attacked a flight of 10 Japanese Zero's. After shooting 3 down, the Marine pilots were attacked by 20 more zeros from above. Boyington managed to down another zero trying to defend his wingman but Ashmun crashed and "Pappy" bailed out of his burning F4U with just inches to spare. Four Zeros strafed Boyington in the water for almost 20 minutes before a Japanese submarine picked him up. He was subsequently captured and spent the duration of World War II (over 20 months) as a prisoner of war in Japanese prison camps.
The Black Sheep scoured the skies seeking vengeance for their fallen leader, strafing barges and land targets and checking out any rumors about downed airmen sighted at sea. Nothing turned up, however, and on January 6, the Black Sheep carried out their final mission as a unit. In two six-week combat tours, VMF-214 accumulated a stellar squadron record of 1,776 missions and 168 planes destroyed or damaged, earning eight pilots ace status and the squadron a Presidential Unit Citation.
A few days after the cease fire in 1945 some of his POW mates painted "PAPPY BOYINGTON HERE!" on top of the little tin shack that they were living in. Boyington was rediscovered and in a few days on his way back to the states. Even after enduring near starvation, beatings and dysentary at the hands of his captors he gave the Japanese credit for keeping him sober for 20 months.
Life in the states was not always easy for him as the press frequently criticized him for his excess drinking-but press writers never had to fly 7 tons of metal, fuel and explosives at 400 mph with people shooting real bullets at them and then have to write letters to the families of the pilots who would not return home by the dim light of a kerosene latern. When asked how he accomplished putting together such a good fighting squadron in a short time he commented that he was just a good coach. "My BlackSheep taught me that you get along fine with the American boy if you lead him and show him and do not try to order him or drive him". Something that corporate CEO's and bureaucrats should take to heart. When asked how he felt about being a hero he said " Just name a hero and I'll prove he's a bum".
At the end of the war in August of 1945, after Boyington's release, he was presented the Medal of Honor by President Truman. The MOH had been awarded to him by President Roosevelt while he was listed as MIA. He was promoted to Colonel upon his retirement from the Corps in 1947.
Pappy died January 11, 1988 and is burried in Section 7-A of Arlington National Cemetery.
Portions by: Bruce "BBGunn" Bowen
Click here for a brief history of VMF-214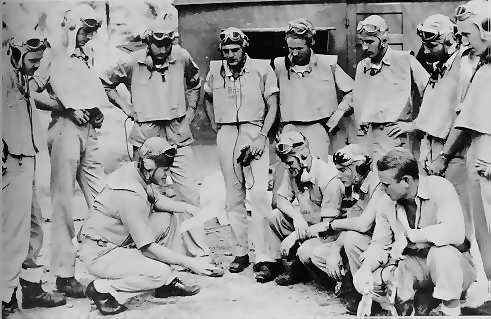 Pappy briefs his flock before a fighter sweep over Rabaul
Source: Marine Corps
Pappy's Corsairs
Click on any aircraft below for a larger image



Medal of Honor
Rank and organization: Major, U.S. Marine Corps Reserve, Marine Squadron 214. Place and date: Central Solomon's area, from 12 September 1943 to 3 January 1944. Entered service at: Washington. Born: 4 December 1912, Coeur D'Alene,Idaho. Other Navy award: Navy Cross.
Citation: For extraordinary heroism and valiant devotion to duty as commanding officer of Marine Fighting Squadron 214 in action against enemy Japanese forces in the Central Solomon's area from 12 September 1943 to 3 January 1944. Consistently outnumbered throughout successive hazardous flights over heavily defended hostile territory, Maj. Boyington struck at the enemy with daring and courageous persistence, leading his squadron into combat with devastating results to Japanese shipping, shore installations, and aerial forces. Resolute in his efforts to inflict crippling damage on the enemy, Maj. Boyington led a formation of 24 fighters over Kahili on 17 October and, persistently circling the airdrome where 60 hostile aircraft were grounded, boldly challenged the Japanese to send up planes. Under his brilliant command, our fighters shot down 20 enemy craft in the ensuing action without the loss of a single ship. A superb airman and determined fighter against overwhelming odds, Maj. Boyington personally destroyed 26 of the many Japanese planes shot down by his squadron and, by his forceful leadership, developed the combat readiness in his command which was a distinctive factor in the Allied aerial achievements in this vitally strategic area.
Hall of Fame WWII | Aircraft Selection | Feedback | Home