Brigadier General Joseph J. Foss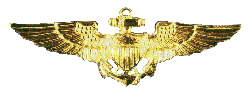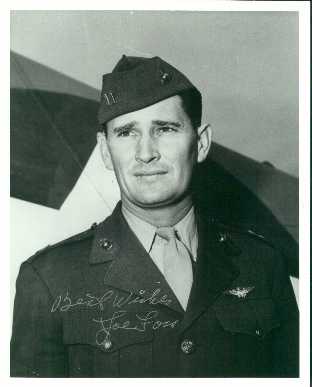 Joe Foss' interest in aviation began in 1927 as a young 12 year old. Joe had the great fortune to see Charles Lindbergh, America's "Hero of Heroes" at an airport near Sioux Falls, South Dakota. Five years later he was hooked on aviation when he watched a marine squadron put on a dazzling exhibition. Not long after, he took his first flight in an old run down aircraft barely able to fly. The thrill was gratifying.
In 1934, Joe began his college education in Sioux Falls, but the times were tough and he had to drop out to help his mother and his younger brother, Cliff, run the family farm. Then, despite the hard times, he scraped up $65 to learn to fly on the installment plan. His instructor says he's a natural and takes to it like a duck to water.
Determined to finish his education, he enters the University of South Dakota and supports himself by waiting table in his fraternity house. In his senior year he also helped establish a civilian pilot training program at the University and completed its ground school and flight instruction courses before he graduated with a Business Administration degree in June, 1940. Joe received his Marine Corps commission and wings in the Spring following his graduation from the University.
During 1942, Guadalcanal was under air attack almost daily. Foss arrived there in October with VMF-121. Four days later downed his first Zero, and on the next day, he shot down another. Before a fortnight had ended, Joe became an Ace by destroying two more Zeros and a twin-engine Nell bomber. Within a month Foss had 23 enemy aircraft to his credit. After he recovered from a six-week hospital bout with malaria In early 1943, he shot down three more Zeros, his final victories.
At War's end, Foss left active duty to return to South Dakota, where he helped organize the South Dakota Air National Guard. He also opened Foss Flying Service in Sioux Falls and it did well until a fire wiped it out. Joe turned to politics and was elected to the South Dakota House of Representatives. Foss served two terms in the South Dakota House of Representatives, followed by two terms as Governor begining in 1954. A popular figure, he was also asked to act as a Master of Ceremonies at beauty contests, fairs and rodeos and flying events all over the state. Then at the outbreak of the Korean War, he retured to active duty as a colonel in the Air Force and served with its central defense zone until 1952. He then became chief of staff of the South Dakota Air National Guard with the rank of Brigadier General.
He was later the first Commissioner of the American Football League serving until 1966. Joe hosted the weekly "American Sportsman" television show and later stared in the weekly TV series "The Outdoorsman - Joe Foss". Joe is also active on a national level for many worthwhile causes, including serving as national chairman of the society for crippled children and adults, and its Easter seal campaign. Meanwhile, he continued his aviation activities by becoming the director of public relations for KLM Royal Dutch Airlines for six years, and also served as chairman of the Air Force Association and a director of the Air Force Academy. In 1980, Foss was given the "Outstanding American Award" by the Los Angeles Philanthropic Foundation. Joe was also President of the National Rifle Association.
Medal of Honor
FOSS, JOSEPH JACOB - Captain, USMC Reserve, Marine Fighting Squadron 121, 1st Marine Aircraft Wing.
Action: Over Guadalcanal, 9 Oct to 19 Nov 1942, 15 and 23 Jan 1943. Inducted: South Dakota. DOB 17 Apr 1 915, Sioux Falls, S. Dak.
Citation: For outstanding heroism and courage above and beyond the call of duty as executive officer of Marine Fighting Squadron 121, 1st Marine Aircraft Wing, at Guadalcanal. Engaging in almost daily combat with the enemy from 9 Oct to 19 Nov 1942, Capt. Foss personally shot down 23 Japanese planes and damaged others so severely that their destruction was extremely probable. In addition, during this period, he successfully led a large number of escort missions, skillfully covering reconnaissance, bombing, and photographic planes as well as surface craft. On 15 Jan 1943, he added 3 more enemy planes to his already brilliant successes for a record of aerial combat achievement unsurpassed in this war. Boldly searching out an approaching enemy force on 25 Jan, Capt. Foss led his 8 F-4F Marine planes and 4 Army P-38's into action and, undaunted by tremendously superior numbers, intercepted and struck with such force that 4 Japanese fighters were shot down and the bombers were turned back without releasing a single bomb. His remarkable flying skill, inspiring leadership, and indomitable fighting spirit were distinctive factors in the defense of strategic American positions on Guadalcanal.