Capt. Dominic S. Gentile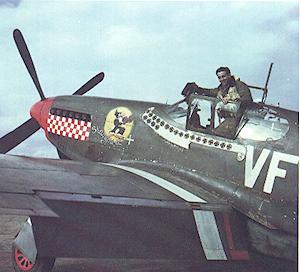 Capt. Dominic (Don)Gentile's hometown was Piqua, Ohio. He joined the RAF prior to America's entry into World War II and was assigned to the 133rd "Eagle" Squadron. Two of his victories were scored before the outfit was transferred to the USAAF. On 8 March 1944, he was credited with the destruction of 4 1/4 German aircraft and on 29 March he scored a triple. Gentile scored doubles on five other occasions.
Gentile and his close friend Major John T. Godfrey flew with a group from the 4th Fighter Group of the 336th Fighter Squadron flying out of Debden. They tormented Hermann Göring's Luftwaffe to such an extent that Göring called them the"Debden Gangsters". Between Gentile and Godfrey they had 37 kills.
Gentile and Godfrey used rather unconventional tactics; tactics which would in later years be used by American fighter pilots in Vietnam (read an excerpt from Godfrey's book which describes these tactics). Whoever first spotted a target and was in the best position, took the lead with the other covering his "six". The Gentile-Godfrey combination was so effective the Göring is said to have sworn he'd give up two squadrons for their capture.
In mid-1944 Gentile and Godfrey were split up. Gentile, while demonstrating the maneuverability of his Mustang ( "Shangri La", a P-51B-5-NA Ser No 44-6913/VF-T. An earlier aircraft was named "Donnie Boy" and was coded VF-P.) to a group of newspaper reporters, accidentally flew the plane into the ground. Capt. Gentile later returned to the U.S. where he participated in the War Bond promotionals. Godfrey was also sent home, but later managed a new tour. He flew several missions and was accidentally shot down by his wingman. He spent several months in a prison camp, but managed to escape just before the end of the war. After the war Don Gentile stayed with the Air Force as a test pilot at Wright Field, as a Training Officer in the Fighter Gunnery Program, and as a student officer at the Air Tactical School. Gentile died January 28, 1951, in a flying accident at Forestville, Maryland in T-33 jet trainer and Godfrey died June 12, 1958, of Amyotrophic Lateral Sclerosis (Lou Gehrig's Disease)
Capt. Gentile's decorations include the Distinguished Service Cross, the Silver Star, the Distinguished Flying Cross, the Air Medal, the Presidential Unit Citation, the World War Two Victory Medal, the American Campaign Medal, the British Distinguished Flying Cross, the British Star, the Eagle Squadron Crest, and other foreign medals.

According to a family member, Capt. Gentile changed his first name to Don because of Italy's participation in the war in order that his name did not seem so Italian.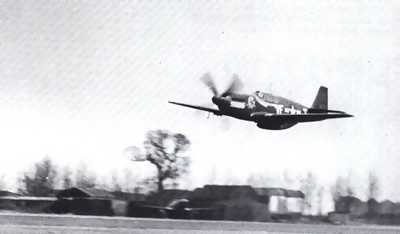 At top is a photo taken at the time of Gentile's demonstration. At bottom is a
photo of "Shangri La" taken after the accident.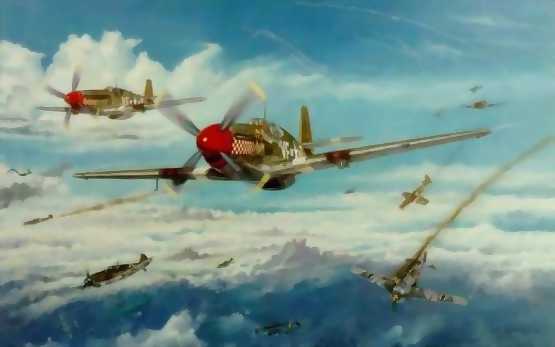 Gentile takes the lead with Godfrey on his wing
A brief history of the 4th fighter group