Lt. Robert M. Hanson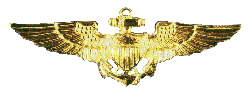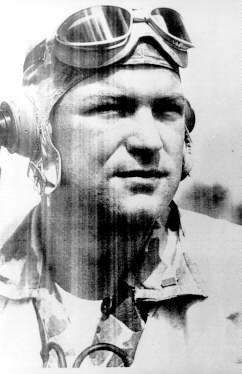 " A master of individual air combat" were the words used to describe 1st Lt. Robert M. Hanson. Indeed, this must have been true for this young Marine Corps pilot scored 20 times in a seventeen day period in the Rabaul area.
Hanson had scored five victories prior to VMF-215s moving up to Torokina airstrip in December 1943, the most spectacular of these combats taking place on Nov. 1, 1943. The F4Us of his squadron had tackled a large formation of Zeroes and Kate bombers. Hanson got at leaset two before he was shot down by the rear gunner of one of the bombers. After six hours in the water , Hanson was picked up by an American destroyer and brought home.
Then began the Rabaul combats. When the "Fighting Corsairs" escorted bombers to Simpson Harbor on January 18, 1944, they encountered some 70 Japanese Zeroes. Hanson accounted for five of them himself in a wild dogfight. His second and third trips to Rabaul brought one and three victories respectively. Another escort trip to Simpson Harbor on January 24th saw Hanson Separated from his mates. He immediately took his lone Corsair into the middle of the formation of Zeroes, destroyed four of them and broke up the attack on the bombers.
The fifth trip to Rabaul brought three more victories and then came January 30th. VMF escorted Grumman TBF to the Rabaul area and once more the Japanese responded with a vengeance. The "Fighting Corsairs" got 21 in the action; four of them being credited to Hanson. The India-born son of American missionaries now possessed a total of 25 victories.
A jubilant Hanson arose the morning of February 3, 1944, ready for another mission. The following day would bring his twenty-fourth brithday and a week would start him on his journey homeward to the United States.
These events would not come to pass. During his strafing passes against gun emplacements the fire became more intense. Suddenly his guns ceased to fire and the nose of his Corsair lifted a bit then nosed down to plunge into the sea.
For his extraordinary achievements and gallantry in action, Hanson was posthumously awarded the Medal of Honor.
Medal of Honor
Rank and organization: First Lieutenant, U.S. Marine Corps Reserve. Born: 4 February 1920, Lucknow, India. Accredited to: Massachusetts. Other Navy awards: Navy Cross, Air Medal.
Citation: For conspicuous gallantry and intrepidity at the risk of his life and above and beyond the call of duty as fighter pilot attached to Marine Fighting Squadron 215 in action against enemy Japanese forces at Bougainville Island, 1 November 1943; and New Britain Island, 24 January 1944. Undeterred by fierce opposition, and fearless in the face of overwhelming odds, 1st Lt. Hanson fought the Japanese boldly and with daring aggressiveness. On 1 November, while flying cover for our landing operations at Empress Augusta Bay, he dauntlessly attacked 6 enemy torpedo bombers, forcing them to jettison their bombs and destroying 1 Japanese plane during the action. Cut off from his division while deep in enemy territory during a high cover flight over Simpson Harbor on 24 January, 1st Lt. Hanson waged a lone and gallant battle against hostile interceptors as they were orbiting to attack our bombers and, striking with devastating fury, brought down 4 Zeroes and probably a fifth. Handling his plane superbly in both pursuit and attack measures, he was a master of individual air combat, accounting for a total of 25 Japanese aircraft in this theater of war. His great personal valor and invincible fighting spirit were in keeping with the highest traditions of the U.S. Naval Service.
Hall of Fame WWII | Aircraft Selection | Feedback | U.S. Fighter