Brigadier General Charles Yeager


"The first time I ever saw a jet, I shot it down."....
General Chuck Yeager, USAF, describing his first confrontation with a Me262.
Born February 13, 1923Chuck Yeager grew up in the hills of Myra,West Virginia where he learned to shoot a rifle by the age of six. His extraordinary hand-eye coordination and mechanical aptitude plus the gift of keen eyesight made him a natural, at age eighteen, for military service.
He started out as an Army Air Corps mechanic and after just a few months was accepted into the flight training
program. Yeager made the transition from frightened, airsick cadet to a cocky but competent sergeant. His squadron trained in Tonopah, Nevada; Santa Rosa and Oroville, California and Casper, Wyoming; before going to war in Europe. After eight combat missions, Yeager was shot down over France. He hid in the woods, farmhouses and huts, evading capture by the enemy and finally escaping over the Pyrenees and into Spain three weeks later.

At this point, he should have been sent home. This regulation was intended to protect the local residents who helped the downed airmen evade capture. If a flier was shot down again at a later time and then captured, he might be compelled to reveal information about the people who were helping downed pilots hide from the enemy. Yeager argued and cajoled all the way up the chain of command to General Eisenhower and back into the war. He spent the next year at Leiston, England, where where he flew 61 missions over Europe.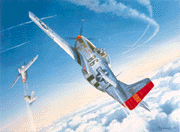 Yeager became an ace at age 21, downing five enemy planes in a single day. Within a month, he had become a double ace with eleven kills to his credit. Although Yeager's combat accomplishments were phenomenal, he is best known for being the first person to fly faster than the speed of sound (about 700 mph).

Breaking the sound barrier is compared to Columbus' discovery that the earth was not flat. Yeager's X-1 flights punched the first hole through that imaginary brick wall in the sky and ushered in the era of modern space flight. Much like Columbus sailing off the edge of the known world of his day, Yeager literally flew into the unknown realm of the upper atmosphere.

Wind tunnels could only simulate .85 Mach or 85% of the speed of sound, so actual flight testing had to be accomplished to push the sky's frontier farther out. The British had lost an experimental aircraft, and its pilot, when the plane disintegrated at .94 Mach, and many people were convinced that the "sound barrier" would destroy any craft that dared to approach it.


Flying the X-1 at .86 Mach, Yeager was buffeted by shock waves; he could see them rippling the plane's control surfaces. He cautiously added speed with each flight, carefully noting the effects on his aircraft. Modifications were made to improve the X-1's stability, but Yeager often had to improvise in the air. Just before his historic flight, Yeager cracked two ribs in a horseback-riding mishap. Eager to continue the X-1 testing, he confided his problem to only his trusted friends. Yeager made his historic flight as scheduled, but with taped-up ribs and a broomstick to help him latch the cockpit door.

Later, in the X-1A, Yeager would fly at twice the speed of sound. He also continued his military career, rising to the rank of Brigadier General and serving once again in Europe as well as Southeast Asia and Pakistan.

Yeager has logged over 10,000 hours flying in 180 different military aircraft. As he stated in his 1985 autobiography, "The best pilots fly more than the others -- that's why they're the best."
Yeager's long career has been marked by the loss of dozens of young pilots, many of them his friends, and acknowledges that in addition to being very good at what he does, he has also been lucky.
" Somehow I always managed to live to fly another day," he mused. Yeager's work ethic and attention to detail are important factors, too. "I worked hard, but I had fun doing it," he said. Yeager and his wife Glennis raised two sons and two daughters. Sadly, Glennis passed away in 1990, but her name is immortalized on the X-1 which, like all of Yeager's planes, was named "Glamorous Glennis."

Although Yeager is considered by many to have "the right stuff," he modestly insists it's more a matter of being in the right place at the right time.

Yeager was rewarded for his courage by receiving a special peacetime medal. The award was presented to him at the White House by President Gerald Ford in 1976.
At Edwards AFB, California on 14 October 1997, General Yeager, as he has done so many times, strapped himself into the cockpit of an F-15. A few moments later he put the Eagle through the sound barrier. This particular flight was Yeager's last military flight (at age 73) and marked the 50th anniversary of his record-breaking flight in the Bell X-1 on 14 October 1947, when he became the first man to fly faster than the speed of sound.
TALLY RECORD: 11 1/2 Confirmed and 3 Damaged
DECORATIONS: Distinguished Service Medal with one Oak Leaf Cluster, Silver Star with one OLC, Legion of Merit with one OLC, Distinguished Flying Cross with 2 OLCs, Bronze Star, Purple Heart, Air Medal with 10 OLCs, plus the MacKay, Collier and Harmon Trophies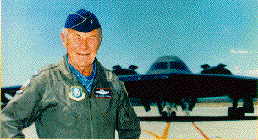 Return to WWII aces