Cmdr. David McCampbell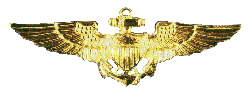 "Aggressiveness was fundamental to success in air-to-air combat and if you ever caught a fighter pilot in a defensive mood you had him licked before you started shooting."
Cmdr. David McCampbell, USN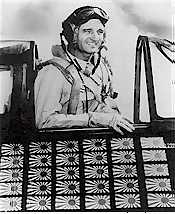 David McCampbell became a naval aviator in 1934 but it wasn't until 1944 that he flew combat missions from the carrier USS Essex flying F6F Hellcats. His first victory was in June of 1944, a Mitsubishi A6M "Zeke." A week later he shot down five dive bombers in one sortie plus another two "Zekes" later in the day.
During the Battle of Leyte Gulf on October 24th, 1944, McCampbell and one other aircraft attacked a formation of 60 "Zekes" heading for the U.S. fleet. They shot down 15 aircraft between them, nine credited to McCampbell ( a record for a U.S. pilot ) causing the enemy to abandon their attack before they could reach a single ship. "I just kept on shooting, he explained. My wingman went on to take on a total of 40 Japanese fighters". For this action McCampbell was awarded the Medal of Honor by President Roosevelt on October 1st, 1945. The day after the Leyte Gulf action he was target co-ordinator for a massed air attack on the Northern Japanese Force in which US forces sank 4 aircraft carriers, 1 heavy cruiser, and 1 destroyer. For this action he was awarded the Navy Cross.
He was born Jan. 16, 1910 in Bessemer, Ala. and grew up in West Palm Beach, Fla. He attended Stauton Military Academy in Virginia, and Georgia Tech in Atlanta before being appointed to the Naval Academy. He graduated from the Naval Academy in 1933 with a degree in marine engineering and retired from active duty in 1964 after 31 years of service. He died at age 86 on June 30th, 1996 in West Palm Beach, Florida.
One of only two Navy pilots to be awarded the Medal of Honor, Captain David McCampbell ended the war with 34 aircraft shot down plus another 21 destroyed on the ground. His score of 34 made him the highest scoring Navy 'Ace' and the third highest scoring US pilot of World War II. McCampbell also received the Navy Cross, the Silver Star Medal, Legion of Merit, and the Distinguished Flying Cross.
Medal of Honor
McCAMPBELL, DAVID - Commander, USN, Air Group 15. Action: First and second battles of the Philippine Sea, 19 Jun 1944. Inducted: Florida. DOB 16 Jan 1910, Bessemer, Ala. Other Navy awards: Navy Cross, Silver Star, Legion of Merit, Distinguished Flying Cross with 2 Gold Stars, Air Medal.
Citation: For conspicuous gallantry and intrepidity at the risk of his life above and beyond the call of duty as commander, Air Group 15, during combat against enemy Japanese aerial forces in the first and second battles of the Philippine Sea. An inspiring leader, fighting boldly in the face of terrific odds, Comdr. McCampbell led his fighter planes against a force of 80 Japanese carrier-based aircraft bearing down on our fleet on 19 Jun 1944. Striking fiercely in valiant defense of our surface force, he personally destroyed 7 hostile planes during this single engagement in which the outnumbering attack force was utterly routed and virtually annihilated. During a major fleet engagement with the enemy on 24 October, Comdr. McCampbell, assisted by but l plane, intercepted and daringly attacked a formation of 60 hostile land-based craft approaching our forces. Fighting desperately but with superb skill against such overwhelming airpower, he shot down 9 Japanese planes and, completely disorganizing the enemy group, forced the remainder to abandon the attack before a single aircraft could reach the fleet. His great personal valor and indomitable spirit of aggression under extremely perilous combat conditions reflect the highest credit upon Comdr. McCampbell and the US Naval Service.