David C. Schilling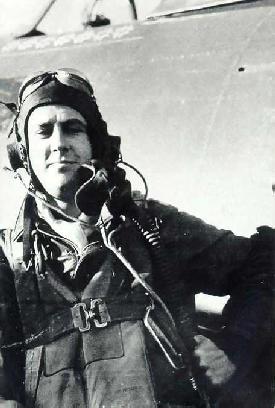 The third-ranking ace of the 56th Fighter Group, Col. Schilling achieved 22.5 air victories, plus 10.5 destroyed on the ground in his 132 combat sorties. Most of Schilling's victories were against Bf-109 and FW-190 single-engined fighters excepting one Me-110 and one Me-410 twin-engined destroyers. Schilling had 5 air victories in one mission, downing 2 Bf-109s and 3 FW-190s on December 23, 1944 plus multiple victories on four other missions. A P-47 pilot, he flew a presentation aircraft "Hewlett/Woodmere Long Island", decorated with "Hairless Joe", a Dogpatch cartoon character.
Born December 15, 1919, Leavenworth, Kansas. Attended Dartmouth College, New Hampshire. Enlisted USAAC and accepted for pilot training, 1939. Commissioned 2nd Lt. in Air Reserves, May 1940. 8th Pursuit Group at Langley, Virginia and later Mitchel Field, New York. 56th FG at Charlotte AB, North Carolina, June 1941.
To Europe with 62nd FS/56th FG, Jan. 1943. Promoted to Major, C.O. 62nd FS. He participated in the first pre-operational 'circus' over Pas-de-Calais in April 8, 1943. On a late April mission, his plane was hit, knocking out his radio, but he returned without difficulty. He led many missions during this period, such as a fighter sweep over Ypres May 25 and a 'rodeo' of 4 fighter groups on August 23. He was made Group Executive Officer in August 1943.
He opened his scoring on October 2, 1943, downing a Bf-109 and an FW-190. Two days later, on a very big day for the 56th, he led a counterattack on some Bf-110s as they tried to attack the B-17s, knocking down one himself. November 26 was another very successful day, the Group claiming 23 on a withdrawal support mission form Bremen; Schilling getting two 190s. Promoted to Lt. Colonel. Acting C.O. 56th FG, Jan. 11-19, 1944 (during Hub Zemke's absence). He continued his scoring throughout 1944, getting 3 FW-190s on September 21. After Zemke's capture, Schilling served as Group C.O. from Aug. 12, 1944 through Jan. 27, 1945. His highest scoring day was December 23, 1944, during the Battle of the Bulge, when he downed 3 Bf-109s and 2 FW-190s in a huge dogfight with over 350 German fighters.
Decorations: Distinguished Service Cross with OLC, Silver Star with 2 OLC, Distinguished Flying Cross with 8 OLC, Air Medal with (?) OLC, British DFC, Croix de Guerre
Returned to USA and later C.O. of post-war 56th FG. Brought the 56th FG's P-80 jet fighters to the UK on the first USAF Trans-Atlantic Jet Flight, July 1948. Staff Officer HQ VIII AF, 1956. Killed in auto accident at Eriswell, Suffolk, England on Aug. 14, 1956.